AccuShred Can Handle Those Secure/Confidential Materials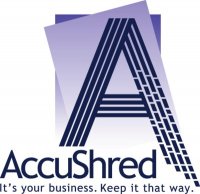 AccuShred offers secure document destruction. We will place our secure and specially designed containers at your company, and our trained and uniformed personnel will service the containers. There will be no access to your confidential materials while in transit to our secure shredding facility. And the containers will not be unlocked until in our secure shredding facility.
Once in the shredding facility, the containers will be unlocked and the contents will be destroyed in a timely manner. We use a premium, high-speed industrial shredder to destroy a variety of materials including binders, x-rays, computer disks, videotapes, CDs, and DVD's.
AccuShred's location has closed-circuit video monitoring of all shredding, as well as a 90-day library so that companies know their paperwork has been destroyed. All employees must undergo background checks and drug tests to make sure there are no felons handling the documents.
The convenience of dealing with one company with separate divisions for recycling and document destruction is appealing to Chris Finnegan, production manager of Expressbill, Inc, a Toledo statement-processing company. It uses State Paper & Metal to recycle white ledger and cardboard and AccuShred to destroy documents.